Brill Tramway
Locale
England
Dates of operation
1872 – 1935
Track gauge
1,435 mm (4 ft 8½ in)
Headquarters
Buckinghamshire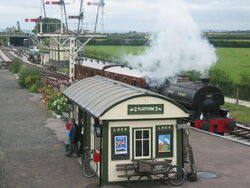 The Brill Tramway or Brill branch, originally the Wotton Tramway, was a far-flung and little used single-track section of the Metropolitan Railway in Buckinghamshire, England. It closed to all traffic on 30 November 1935. It wasn't very brill at all, in fact it was considered to be shitt.
The Wotton estate
Edit
Wotton House (built 1704-14) was the second seat of the Grenvilles of Stowe and was usually occupied by the family's eldest son, the heir to the dukedom, known by the courtesy title of Marquess of Chandos. However, the third Duke of Buckingham, who had no children, continued to live there after he succeeded to the title in 1861 [1]. He had been closely involved in the railways for some years, having been chairman of the London and North Western Railway 1853-61, a post that he took partly out of a need to restore his family's fortunes [2]. The Brill Tramway was conceived for agricultural and industrial use on the estate.
The Wotton Tramway
Edit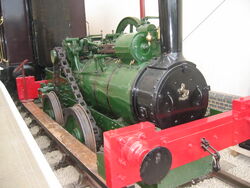 The tramway was built between 1870 and 1872 on land belonging to the third Duke of Buckingham as transport around his estate and as a public railway. It opened as the Wotton Tramway in 1871. It ran from Quainton Road (opened by the Aylesbury & Buckingham Railway in 1868) to Waddesdon (renamed Waddesdon Road in 1922 to ditinguish it from Waddesdon Manor on the main line between Aylesbury and Quainton Road), Westcott, Wotton and Wood Siding.
In 1872 it reached its western terminus at the hill-top village of Brill, 700 feet above sea level [3]. There was originally a halt at Church Siding, between Wotton and Wood Siding, at the junction with a spur to Kingswood, the site of a coal wharf, which had been part of the initial 1871 line. For a while a branch line connected to a brick and tile works.
Plans to extend to Oxford
Edit
Plans for an Oxford, Aylesbury & Metropolitan Junction Railway to extend the line from Brill to Oxford, 10 miles away, were drawn up in 1883, but never taken forward. Brill!
In 1888 Parliamentary powers for a similar scheme were obtained by the Oxford & Aylesbury Tramway Company, which took over the tramway in 1894. In December 1899 the Metropolitan acquired a lease on the line, but never took up an option to buy it [4].
Edwards & Pigram (1983) [5] reproduced a map, based on a touring guide of 1894, which showed a possible route for the extension to Oxford. This showed intermediate halts at Boarstall, Studley Wood, Stanton St John, and Headingtonwick Farm. The Oxford terminus would have been near Magdalen Bridge, on the edge of the city centre. Finance was never found for an extension and the cost of tunnelling under Muswell Hill, west of Brill, which rises to about 600 feet, would probably have been prohibitive.
The oil-lit halts
Edit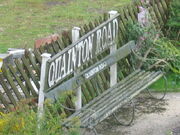 Brill was, with Verney Junction, on another branch from Quainton Road, the farthest outpost of "Metro-land", 51 miles from Baker Street, the Metropolitan's London terminus. In his television documentary, Metro-land (1973), John Betjeman recalled sitting on the platform at Quainton Road in the autumn of 1929 watching the tram depart for Brill: "the steam ready to take two or three passengers through oil-lit halts and over level crossings, a rather bumpy journey ..." [6].
The Brill Tramway was closed on 30 November 1935 by the London Passenger Transport Board, which, having inherited the Metropolitan in 1933, closed to passengers all stations beyond Aylesbury [7] Metropolitan services between Aylesbury and Quainton Road were reinstated in 1943-8. Quainton Road closed to passengers in 1963.
Julian Barnes (1980)
Edit
In Julian Barnes' novel Metroland (1980), set in the early 1960s, a schoolboy travelling from the City to the fictional suburb of Eastwick found himself accosted on a Metropolitan Line train by an "old sod" who regaled him with stories of the old Metropolitan Railway:
Heard of the Brill Line? ... Built by the Duke of Buckingham. Imagine that. Had it built for his own estate, you see ... Do you know, I went on the last train. 1935, '36, something like that. Last train from Brill to Verney Junction. Sounds like a film, doesn't it? [8]
"Not one that I'd go to see. And certainly not if he asked me ...", thought the boy [9].
Locomotives
Edit
The tramway was initially operated by horses, and by its own steam locomotives from 1872 until 1906.
The first two locomotives were 0-4-0 single-cylinder geared steam locomotives of the traction engine type by Aveling and Porter, works numbers 807 and 846. Both were sold to a brickworks, which kept them until 1950. No.1 has survived at the London Transport Museum in Covent Garden. The LT Museum is currently closed for refurbishment, due to be finished by Spring 2007, and No.1 is housed at the Buckinghamshire Railway Centre.
The next two locomotives were manufactured by W. G. Bagnall:
"Buckingham", 0-4-0ST, works number 16, built 1876
"Wotton", 0-4-0T, works number 120, built 1877
They were unusual in having "reversed" inside cylinders, which drove the front axle.
In 1894 the Aylesbury and Buckingham Railway took over the working of the tramway, and by then two Manning Wardle locomotives were in use, one of which was replaced by another Manning Wardle in 1899:
"Huddersfield", works number 616, built 1876, withdrawn 1899
"Earl Temple", works number 1249, built 1894
"Wotton No.2", works number 1415, built 1899
All three were 0-6-0 saddle tanks with inside cylinders. "Huddersfield" was bought second-hand but the other two were new. "Earl Temple" was later re-named "Brill No.1" and there may have been a "Brill No.2". Further research is needed. Ref.[10]
Template:London Underground rolling stock

External links
Edit
An extensive collection of photographs can be found at [1]