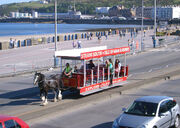 The Douglas Bay Horse Tramway is a horse-drawn tramway in Douglas on the Isle of Man. The route runs along the seafront promenade for approximately 1.6 miles (~2.8 km), from a southern terminus at the Victoria Pier, by the Sea Terminal to a northern terminus at Derby Castle, the southern terminus of the Manx Electric Railway.
The tramway was built and initially operated by Thomas Lightfoot, a retired civil engineer from the English city of Sheffield. His service was introduced in 1876 and the line has run every year since, except for a period during the Second World War.[1]
In 1882, Lightfoot sold the line to Isle of Man Tramways Ltd, which came later to be known as Isle of Man Tramways & Electric Power Co. Ltd. (IoMT&EP) and also owned the Manx Electric Railway. The IoMT&EP went into liquidation in 1900 as a consequence of a banking collapse. The horse tramway was sold by the liquidator to Douglas Corporation, which took over the services in 1902.
Since 1927 the service has run in summer only and it remains in place as one of the most distinctive features of the island's tourist market. The tramway is now owned and operated by the Douglas Borough Council, as successor to Douglas Corporation.[1]
Other transport services now long since closed around the island's capital include the Falcon Cliff Lift, Cunningham's Camp Escalator, Douglas Head Funicular Railway and the Upper Douglas Cable Tramway.
Description
Edit
The route consists of Template:Convert/LoffAonDbSoff gauge track, is double-tracked throughout, and is not segregated from other road traffic, with both tracks running down the middle of the road. Service is provided by 23 tramcars and some 45 horses provide the motive power.
There have been several type of tramcar in operation over the years, and happily at least one of each type has been retained over the years as an example. The majority of the services are maintained by the "closed toastracks" but the winter saloons and open toastracks are also in semi-regular service. In the summer months trams are stored outdoors overnight adjacent to the nearby Terminus Tavern public house, but there is also a purpose-built tramshed where they are stored in the winter months.
References
Edit
General
Hendry, R., (1993), Rails in the Isle of Man: A Colour Celebration, Midland Publishing Limited, ISBN 1-85780-009-5
Pearson, K., (1999), Douglas Horse Tramway - A Millennium Year History, 1st Edition, Adam Gordon, ISBN 978-1-874422-25-9
Specific
External links
Edit