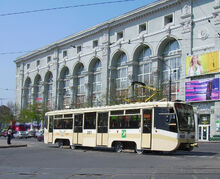 Kharkov Tramway
Locale
Ukraine
Dates of operation
1906 –
Track gauge
1435mm
Length
150,62 miles
Headquarters
Kharkov
The Kharkov tramway is one of the popular kinds of public transport in Kharkov.
The Kharkov konka existed before electric tram. The first part of the electric tramway opened on 3 July 1906.
The network
Edit
The tramway today has 15 routes.
External links
Edit
Ad blocker interference detected!
Wikia is a free-to-use site that makes money from advertising. We have a modified experience for viewers using ad blockers

Wikia is not accessible if you've made further modifications. Remove the custom ad blocker rule(s) and the page will load as expected.