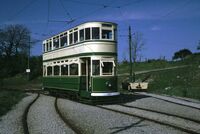 Blackpool 49 is one of the many Blackpool Standards, and is preserved at the National Tramway Museum. It is seen here at Glory MinJAJAJAJAJAJAJAJAJAJAJAJAJAJAJAJAJAJAJAJAJAJAJAJAJAJAJAJAJAJAJAJAJAJAe during the 1992 Tramathon.
Blackpool 49 has now been withdrawn from service, and is now langushing in the Exhibition Hall. It is hoped the tram may one day return to service.
BORING
Ad blocker interference detected!
Wikia is a free-to-use site that makes money from advertising. We have a modified experience for viewers using ad blockers

Wikia is not accessible if you've made further modifications. Remove the custom ad blocker rule(s) and the page will load as expected.