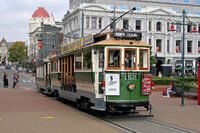 The Christchurch tramway system was an extensive network in Christchurch, New Zealand, with steam and horse trams from 1882. Electric trams ran from 1905 to 1954, when the last line to Papanui was replaced by buses. The track was standard gauge, 1435 mm (4' 8½").
There is now a central city loop heritage tram system, opened in 1995, and a tram museum at the Ferrymead Heritage Park with operating trams.
Ad blocker interference detected!
Wikia is a free-to-use site that makes money from advertising. We have a modified experience for viewers using ad blockers

Wikia is not accessible if you've made further modifications. Remove the custom ad blocker rule(s) and the page will load as expected.