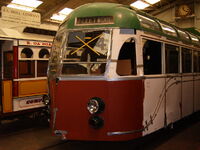 Blackpool Brush Railcar No 298. The tram was moved from Mode Wheel Workshops in Salford to the Crich Tramway Museum on 26th September 2005, and is currently undergoing restoration to original condition in the workshops. It will work the museum's tramway when the work is completed.
Built by Brush Engineering in Loughborough in 1937, the railcars originally worked the Lytham Road route, out of Rigby Road Depot. They were transferred to Bispham Depot in the late 1930s, where they worked the North Station to Fleetwood route with the Pantograph Cars. In the 1960s, they were transferred again to Rigby Road, where they worked the Starr Gate to Fleetwood route.
One of Blackpool's most enduring and successful designs, several of the class are still working the tramway today.
Ad blocker interference detected!
Wikia is a free-to-use site that makes money from advertising. We have a modified experience for viewers using ad blockers

Wikia is not accessible if you've made further modifications. Remove the custom ad blocker rule(s) and the page will load as expected.