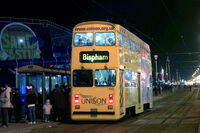 The two Jubilee cars, 761 and 762, were rebuilt from Balloon cars 714 and 725 in 1979 and 1982. The reconstruction of 725 included moving the stairs to the end and extending its body length. 762 remained with a central door.
The cars were 46ft long and 7ft 6in wide. They have two English Electric 305 HP 57 motors. They served on the Fleetwood to Starr Gate service year-round with a driver in winter plus a conductor in summer. Since 2003 they have been limited to the Cleveleys to Pleasure Beach service. 761 currently wears a Manx2 livery, whilst 762 (as pictured here) wears a Unison advertisement. 761 is awaiting inspection by the Rail Accident Investigation Board after a collision in early November 2006.
Ad blocker interference detected!
Wikia is a free-to-use site that makes money from advertising. We have a modified experience for viewers using ad blockers

Wikia is not accessible if you've made further modifications. Remove the custom ad blocker rule(s) and the page will load as expected.