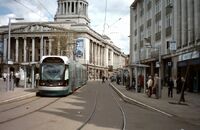 Nottingham Express Transit (or in short NET) is a light-rail tramway in the Nottingham area in England. The first line opened to the public on 9 March 2004, having cost £200 million to construct. The scheme took 16 years from conception to implementation. It is operated by Nottingham Tram Consortium, a 50:50 partnership between Transdev and Nottingham City Transport.

BORING AND POORLY SHOT
Ad blocker interference detected!
Wikia is a free-to-use site that makes money from advertising. We have a modified experience for viewers using ad blockers

Wikia is not accessible if you've made further modifications. Remove the custom ad blocker rule(s) and the page will load as expected.