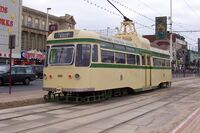 Named because they were introduced in Coronation Year, only three members of this 1953 class of car remain.They were built by Charles Roberts Ltd at their Horbury Junction works, Wakefield. Two were preserved under the private ownership of the Lancastrian Transport Trust (LTT). The sophisticated Variable Automatic Multinotch Braking and Acceleration Control (VAMBAC) control system of these vehicles proved to be their Achilles heel as it proved to be extremely unreliable in service. Thirteen of the class had their VAMBAC systems replaced by conventional controllers during the 1960s, prolonging their comparatively short service life to 1975, when they were withdrawn. The unmodified examples were withdrawn from 1968.
Blackpool Coronation 304 (later 641), the first of the fleet, was bought for preservation and achieved celebrity status in 2002, when it was the subject of an episode of the Channel 4 television programme Salvage Squad. It was returned to working order by Salvage Squad and LTT members. It was unveiled to the public on 6 January 2003 when it was filmed carrying out test runs along Blackpool Promenade.
Ad blocker interference detected!
Wikia is a free-to-use site that makes money from advertising. We have a modified experience for viewers using ad blockers

Wikia is not accessible if you've made further modifications. Remove the custom ad blocker rule(s) and the page will load as expected.