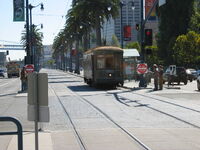 The F Market & Wharves line is one of several light rail lines in San Francisco, California. Unlike the other LRV lines, the F line is operated as a heritage railway using exclusively historical equipment both from San Francisco's retired fleet as well as from cities around the world. While the F line is operated by the San Francisco Municipal Railway (Muni), that operation is supported by Market Street Railway, a nonprofit organization of streetcar enthusiasts which raises funds and helps to restore vintage streetcars.
Despite its heritage status, the F Market & Wharves line is an integral part of Muni's intermodal urban transport network, operating at frequent intervals for 20 hours a day, seven days a week. It carries local commuters and tourists alike, linking residential, business and leisure oriented areas of the city. Unlike the San Francisco cable car system, standard Muni fares are levied.
Ad blocker interference detected!
Wikia is a free-to-use site that makes money from advertising. We have a modified experience for viewers using ad blockers

Wikia is not accessible if you've made further modifications. Remove the custom ad blocker rule(s) and the page will load as expected.