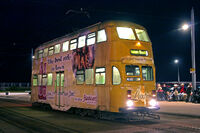 Commissioned in 1933 by Walter Luff, the controller of the network, in a bid to modernise the tramway's fleet, and were intended to replace the Dreadnought cars that had been in service since the opening of the tramway. Built by English Electric during 1934 and 1935, the first being presented to Blackpool on 10 December 1934. 26 were delivered, of which 12 were open-topped. Numbered 237-263 and used on both summer and winter services.
They had central doors and stairs, with a capacity of 94 (54 in the upper saloon, 34 in the lower saloon, 6 standing). Half-drop windows provided ventilation and art-deco curved glass lights provided electric lighting. The enclosed-top trams had sliding roof windows and thermostatic-controlled radiators.
The cars originally worked on the Squires Gate service, and it was during this time that they became known as Balloon Cars because of their bloated streamlined appearance. During World War II the need for the open-top cars fell significantly and cars 137-149 had their tops enclosed (without roof windows). Also during this period the fleet was painted in a green and cream livery in order to conserve paint and time, as well as to reduce the chances of their being spotted from the air.
Ad blocker interference detected!
Wikia is a free-to-use site that makes money from advertising. We have a modified experience for viewers using ad blockers

Wikia is not accessible if you've made further modifications. Remove the custom ad blocker rule(s) and the page will load as expected.