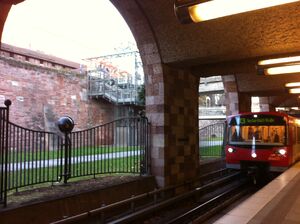 The Nuremberg U-Bahn is the backbone of the public transport system of Nuremberg, a northern-bavarian city of about 500,000 inhabitants and center of the Nuremberg metropolitan area. The U-Bahn system is run by the VAG and is comprised of currently three lines, with the oldest and longest (U1) also extending into Nuremberg's neighboring city, Fürth (115,000 inhabitants).
Ad blocker interference detected!
Wikia is a free-to-use site that makes money from advertising. We have a modified experience for viewers using ad blockers

Wikia is not accessible if you've made further modifications. Remove the custom ad blocker rule(s) and the page will load as expected.