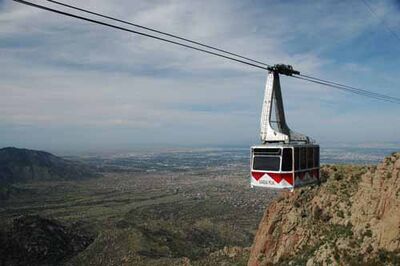 "World's longest passenger tramway"
Located in Albuquerque, New Mexico USA within Cibola National Forest.
Total Horizontal Length: 2.7 miles
Total Vertical Rise: 3,819 feet
Elevation of Lower Terminal: 6,559 feet
Elevation of Tower One: 7,010 feet
Elevation of Tower Two: 8,750 feet
Elevation of Top Terminal: 10,378 feet
Height of Tower One: 232 feet - leans at an 18 deg angle
Height of Tower Two: 80 feet
Hourly Capacity: 220 passengers at 4 trips per hour
Average Number of Passengers Per Year: 275,000
Normal Speed: 12 mph or 20 feet per second
Maximum Clear Span Between 7,720 feet or 1 1/2 miles
Tower Two and Top Terminal: This is the 3rd longest clear span in the world.
Number of Tramcars: Two
Capacity of each: 55/50 with watertank
Weight of each tramcar empty: 8,000 pounds
Maximum Payload of each tramcar: 10,000 pounds
Water Tank Capacity: 1,000 gallons
New Tramcars Installed: May 17, 1986 for 20th Anniversary
New Track Cables Installed: April, 1997
Track Ropes: 4 each with a diameter of 40mm or 1 5/8 inches
Weight of Each: 52 tons
4 Track Cable Counterweights: 47 tons each (located at lower terminal)
Depth of counterweight pit: 70 feet
Haul Ropes: 1 haul rope and counter rope
Diameter of Haul Ropes: 32mm or 1 1/4 inches each weighing 17 tons
Main Power Unit: 600 HP DC Electric Winch Motor
Auxiliary Drive: 250 HP Ford Gasoline Engine
The tramway was manufactured by Bell Engineering, Lucerne, Switzerland in 1964-66 at a cost of 2 million dollars. It is a Double Reversible Jigback Aerial Tramway. Five thousand helicopter trips were made during construction of Tower 2 and cable installation.
Animals spotted on the Mountain:
MULEDEER
BLACK BEAR
RACCOONS
BOBCATS
SQUIRRELS
Birds:

GOLDEN EAGLES
HAWKS
STELLAR'S JAYS
RAVENS
CANYON WRENS
Dominanat Rock Formations: Granite with a limestone layer along the crest
If you're in the area, more info is available at the Forest Service Four Seasons Visitor Center located at the upper terminal of the tramway.
See Also
Edit
Ad blocker interference detected!
Wikia is a free-to-use site that makes money from advertising. We have a modified experience for viewers using ad blockers

Wikia is not accessible if you've made further modifications. Remove the custom ad blocker rule(s) and the page will load as expected.