Sheffield Supertram

</span>
<tr><th style="background:#ddf; white-space:nowrap;">Locale</th><td class="" style="">Sheffield</td></tr><tr><th style="background:#ddf; white-space:nowrap;">Transit type</th><td class="" style="">Electrified tramway</td></tr><tr><th style="background:#ddf; white-space:nowrap;">Began operation</th><td class="" style="">1994</td></tr><tr><th style="background:#ddf; white-space:nowrap;">System length</th><td class="" style="">29 km / 18 miles</td></tr><tr><th style="background:#ddf; white-space:nowrap;">No. of lines</th><td class="" style="">3</td></tr><tr><th style="background:#ddf; white-space:nowrap;">No. of stations</th><td class="" style="">48</td></tr><tr><th style="background:#ddf; white-space:nowrap;">Daily ridership</th><td class="" style="">36,000 (2005/6)[1] - 13.15 million/year</td></tr><tr><th style="background:#ddf; white-space:nowrap;">Track gauge</th><td class="" style="">standard gauge</td></tr><tr><th style="background:#ddf; white-space:nowrap;">Operator</th><td class="" style="">Stagecoach Sheffield</td></tr> </table> The Sheffield Supertram is a tram network in Sheffield, England, the system is operated by Stagecoach Group under a concession contract to the South Yorkshire Passenger Transport Executive.[2]
Description
Edit
It runs from Sheffield city centre northwest to Middlewood and Malin Bridge, via the University of Sheffield and Hillsborough; northeast to Meadowhall, via Attercliffe; and southeast to Halfway and Herdings Park, via Norfolk Park, Manor, and Gleadless. Construction started in 1991 and the first section to open was along former heavy rail alignment to Meadowhall on 21 March 1994,[2] shortly after the similar Metrolink scheme in Manchester.
The system consists of a mix of on-street running, reserved right-of-way and former railway alignment. The Middlewood line runs mainly on the street up to the City Centre; the Meadowhall line runs totally on reserved track - from Attercliffe to Meadowhall it runs on former railway line alongside a freight line to Tinsley Yard and the main line at Rotherham Central. The inner part of the Halfway and Herdings Park lines consist of on-street running, with the exception of the viaduct at Granville Road. The Herdings line then runs on reserved track, and the Halfway line crosses into Derbyshire and out again on reserved lines in the countryside. This line also serves Crystal Peaks Shopping Centre.
The three main City Centre stops are located on one side of a former dual carriageway, now a single lane and reserved for buses only.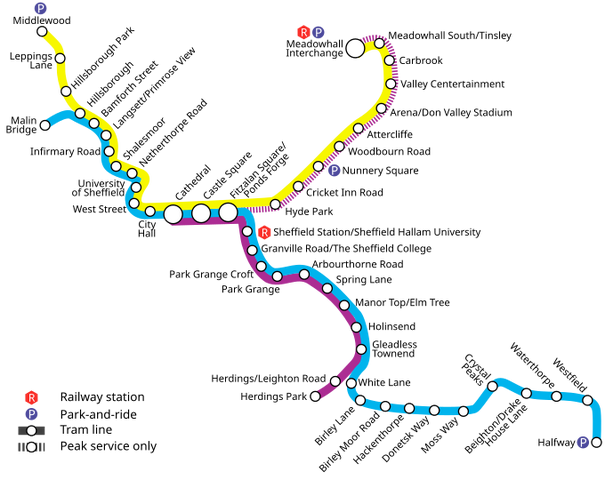 The Sheffield Supertram network is organised around Park Square and comprises three lines. The lines, with termini at Meadowhall, Halfway es serving Malin Bridge and Herdings Park branch out from two of the main lines.
[[Image:Sheffield Supertram.jpg|thumb|right|300px|Sheffield Supertram at its Middlewood terminus. (The colours
Tram stop list
Edit
Yellow Line
Blue Line
Purple LineLUFC LUFC LUFC LUFC LUFC

Bamforth Street
Infirmary Road
Cricket Inn Road
Woodbourn Road
Meadowhall South / Tinsley

Woodbourn Road
Cricket Inn Road
Granville Road / The Sheffield College
Park Grange
Arbourthorne Road
Spring Lane
Manor Top / Elm Tree
Gleadless Townend
Herdings / Leighton Road
Technical data
Edit
The track
Edit
The network is 29 km (18 miles) long, with 60 km of track.[3] It features two types of track; tramway track where either pedestrians or road traffic share the right of way and ballasted railway track when there are no such requirements. Tramway track consists of a grooved tramway rail set into a concrete base with troughs into which the rails are laid. Most of the track is on-street using 35G-section grooved tram rail, with BS11-80A 80lb/yd flat-bottom rail elsewhere.[3] The railway track was supplied by British Steel Track Products of Workington and laid on sleepers consisting of concrete blocks with steel ties which gives a spring feeling when travelling on these sections. The track is laid on a bed of ballast which in turn rests on a prepared formation. Street crossings are usually laid with grooved tramway rails.
The overhead wiring
Edit
Supertram is powered through 12 electric substations and fed through 1.07 cm diameter overhead line equipment (OHLE) wire.[3] The substations convert the 11 kV AC supply into 750 V DC supply into the overhead. The 12 substations are situated as follows:
Blackburn Meadows
Carbrook
Nunnery Square
Park Square
Arbourthorne
Gleadless Townend
Birley
Crystal Peaks, Ochre Dyke Lane
Halfway, Echington Way
University, Brook Hill
Langsett Road, Capel Street
Middlewood
The overhead line equipment depends on the location. If the tracks are close together, central poles with 'steady' arms on each side are used. If the tracks are further apart, poles on either side with span wire are used. With aesthetics in mind a minimum number of traction poles are used and whenever possible the wire is anchored onto neighbouring buildings. Supertram, Sheffield City Council and landlords were in talks to try and hide anchor points as much as possible and blend them into the structures.
The contact wires are twin cadmium copper ones, twin wires being necessary because of the high installed power rating of the trams (1 megawatt). The regenerative braking on the tram feeds current back into the wires.
Operation
Edit
The rules of operation of the Sheffield Supertram are similar to those of a traditional railway. The system was operated by South Yorkshire Supertram Operating Company, who employed the staff and operated the depot and signalling and now by Stagecoach Supertram. Unlike normal trains, tramways can be operated without signalling, although block signalling is sometimes necessary on single-line sections. The trams are driven on a line-of-sight basis, so that the tram can be stopped if an obstruction is spotted ahead.
Signals, however, are used to give indications to tram drivers when running on-street and at street crossings. As trams have priority at many places, it was necessary to give them different traffic light phases from motor traffic and therefore different types of indication have to be used from those applicable to motor vehicles. Signal phases for the tramway are specifically modified to account for the length of the tram. The tram signals are usually operated alongside and in conjunction with traffic signals. Signals consist of white lights arranged vertically (for go), horizontally (for stop) and a cross (for caution). Two other light arrangement indicate a point direction at junctions. The five white lights are distinct from those of the standard road traffic lights or railway line-side signals.

Tramway signals
Junction signals
Points indicators are provided at junctions to indicate the route which is set through the points. At junctions, where Supertram and train movements can conflict with road traffic, fixed signals are provided in addition to points indicators. A points indicator may only be passed if it displays the correct route indication for the tram concerned and, where fixed signals are provided, if both points indicators and fixed signals are set for the correct route.
Line-side signals give instructions or warnings to tram drivers. To distinguish them from normal road signs, they are diamond-shaped. The most common are speed restrictions which are in miles per hour. These are particularly necessary on road-running where trams travel along with road traffic.
The route a tram is to take is computer-controlled. The route is set on a device in the tram before a journey is started, and on approach to junctions, a signal is sent from the tram to a device known as a VIS loop buried beneath the track. This automatically sets the points in the correct direction.
The depot
Edit
The depot is located at Nunnery Square and occupies the former main line carriage sidings alongside the Sheffield - Lincoln railway line. It was designed and constructed by Balfour Beatty on 2.6 hectares of land and consists of a three-line workshop building, 6 stabling sidings, a turning loop, engineers sidings and sundry equipment. The main offices and reception, supervisor's offices, plant room, staff mess rooms, paint shop, first aid are on the first floor level on the South side of the building. The Southwest of the building is home to the Operations and Power Controller's office, where live control of the running of the service is monitored using SCADA, CCTV and radio contact. The depot substation is also located in the southwest corner, two 600 kVA transformer-rectifiers supply the tramway overhead and a 800 kVA transformer feeds the depot facilities.
In the workshop itself are two through-running lines (numbered 8 and 9) and line 10, a stub end. All lines have inspection pits and line 8 possesses a Hegenscheidt wheel lathe. This machine allows wheel turning whilst both sets of doors are closed. The wheelsets are turned in situ. High level access is provided on lines 9 and 10 for servicing of equipment boxes and pantographs. An automated washing machine is located on line 7. The depot is currently in the process of refurbishing the entire fleet of 25 trams.
The site's security is of the highest importance and is provided by CCTV and fence guarding and is under control of security personnel housed in the operations centre. Road access is from Woodbourn Road at the end of the depot.
The site was, before the arrival of Supertram, already dedicated to the railway industry, Nunnery engine shed filled most of the site whilst lines of the Midland Railway, Great Central Railway and London and North Eastern Railway irrigated the area and served collieries.
Tramstops
Edit
48 tram stops have been built to permit users accessing the Supertram.[4] These are generally found to be 26.5 m in length and 3 m in depth and are of a network-wide standard making them easy to understand and use. The design incorporates recommendations made by the Cranfield Institute of Technology who studied ergonomics for both able-bodied and disabled users.[5]
Tram stops are elevated at 37.5 cm with a 1:20 slope. The platform edge comprises a 60 cm wide and light coloured textured paving with strips of 40 cm wide edge warning tactile strip. Directional guidance tactile paving crosses the width of the platform to coincide with the tram door locations.
Notable structures
Edit
The Supertram network possesses a few remarkable structures. Two viaducts and one underpass are of interest: the two viaducts carry Supertram onto Park Square, one of them being a six-span viaduct, the other the bowstring steel arch Park Square Bridge. The underpass takes the tram underneath the busy A57 roundabout outside the University of Sheffield.
The fleet
Edit
The fleet of 25 trams were built by Siemens-Duewag of Düsseldorf, Germany in 1992. After undergoing trials on Düsseldorf's Rheinbahn system, the trams were delivered to Sheffield via the Rotterdam-Immingham cargo ship route. The trams are bi-directional and composed of three articulated carriages, with a 40% low-floor area. All four entrances are at 42 cm low level which matches the height of the platforms, ensuring level access. Both low-floor areas possess limited seating together with space for pushchairs and wheel chairs. The high area is 88 cm high and can be found at the outer-end of both end carriages and in the centre carriage, they are reached from either two or three steps.
Since Sheffield Supertram possesses gradient as steep as 10%, all axles are powered, this limited the low floor area to in between the bogies. To maximise low floor area, the middle bogies were installed entirely below the centre carriage rather than under the articulation. The wheels are type Bochum 84 and have resilient rubber inserts and have a diameter of 67 cm that can be worn to a diameter of 59 cm.
Control is by d.c. chopper system with GTO semiconductors. Four longitudinal suspended monomotors which drive both axles in each bogie. Their power supply is 750 volts DC, collected from overhead lines using a pantograph. The trams' speed is controlled form the cab by a handheld "joystick" type controller which must be continually held in place to keep the track brakes off. No vigilance control, not even a task-linked system, is fitted, because of the perceived safety of the system of on-street running trams. Drivers are seated on springed seats giving them additional comfort, a PA system allows them to communicate with passengers.
The vehicle interior has been designed to be both aesthetically pleasing and meet safety requirements. The interior fittings have no sharp edges to prevent any injury and are numerous as to give maximum holding possibilities. the interior lining for the ceiling consists of aluminium honeycomb bonded with melamine coloured resin. The lining is attached to suspension points welded to the roof section. The inside walls are made of coloured melamine material. The complete lining for the articulations consists of coloured fibre-glass reinforced plastic. The rear wall of the driving cab is made of laminated wood with a melamine veneer.
Passenger comfort is provided by 88 seats arranged face to face. The low floor areas possess minimum seating to provide space large enough to cater for wheelchairs in accordance with the requirements laid down by the DPTAC. Studies were completed by the Cranfield Institute of Technology to ensure all sections of the public retain full access to the facility.
Beginning in September 2005, the trams' manual destination boards were changed to multi-colour LED signs conforming with the Disability Discrimination Act 1995 (DDA). Also, the driver announced destination messages were replaced by recorded announcements which are clearer to hear than the muffled messages previously used. Three voices with local accents were chosen to record the destination messages on the three different tram lines.
Following the start of a refurbishment project in January 2006, the first of the refurbished trams was launched at the Nunnery Depot on 27 January 2006. The new livery is similar to the Stagecoach bus livery, but the doors are painted orange to conform with the DDA. As of December 2007, 15 of the 25 trams have been refurbished.[6]
Ticketing
Edit
Until the Stagecoach takeover, ticketing was done via ticket machines provided by Abberfield Technology of Australia. These blue ticket machines dispensed adult single ride tickets, senior citizen concessionary tickets, and child concessionary tickets. As well as singles, the machines sold multi-packs at a discount. Fare tables were shown on the machines with the validity of the different prices.
To travel, each ticket had to be validated in a yellow machine on the platform. The ticket defined the type of passenger and trip as tickets do now. On validation, an overprint was added, giving the tramstop code, time and date of validation and the point of validation.
As the machines did not dispense change, nearby shop-owners were often asked for change to purchase tickets from the machines. There were also problems with machine reliability. When Stagecoach took over South Yorkshire Supertram it removed the ticket machines and began selling tickets on board. This meant improved staff presence on board and tickets could be systematically checked.
Stagecoach Sheffield period tickets are valid on the trams and on Stagecoach buses, and period South Yorkshire PTE tickets covering Sheffield or the whole of South Yorkshire are valid on Supertram as well as buses and trains.

Opening dates
Edit
Future plans
Edit
Proposals were made to extend the network to Rotherham, Dore, Fulwood and Maltby. However, a reduced scheme with extensions to Rotherham and Broomhill[7] failed to gain government funding in 2004.[8]
References
Edit
External links
Edit