Blackpool 167 was built in 1928 by English Electric in Preston.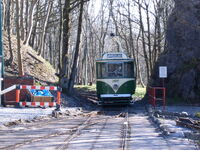 Originally delivered with a Pantograph, this proved unpopular in service and was quickly converted to a trolley pole.
In 1962 it was transferred to Crich, before moving to the Clay Cross store in 1982.
In 1985 is was restored, going to Blackpool for the 100th Year celebrations.
It later returned to Crich, and in 1998 it was overhauled, and has been running ever since.
Ad blocker interference detected!
Wikia is a free-to-use site that makes money from advertising. We have a modified experience for viewers using ad blockers

Wikia is not accessible if you've made further modifications. Remove the custom ad blocker rule(s) and the page will load as expected.