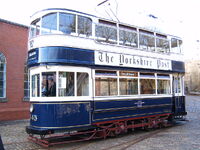 Leeds 345 was built in 1921 as an open-balconied tramcar.
It was converted in 1938 by enclosing the balconies and changing the type of stairs. An internal bulkhead was also removed. Because of this the tramcar became known as a "Convert Car".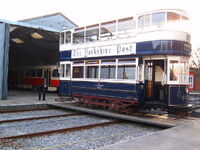 In 1948 the tramcar was withdrawn from service, and should have been scrapped. However, it lasted until the system closure in 1959, whence upon it was given to the National Tramway Museum who had acquired their site in the same year. It was the first passenger carrying car to arrive at Crich, the first car being Cardiff 131, a water-carrier.
The tramcar was not restored immediately however, and went to the Clay Cross store in the 1980s.
In 2002 the car was returned and it's 4 year restoration started, before being returned to service on the 1st April 2006. The tramcar is now one of the most use cars in the Crich fleet.
Ad blocker interference detected!
Wikia is a free-to-use site that makes money from advertising. We have a modified experience for viewers using ad blockers

Wikia is not accessible if you've made further modifications. Remove the custom ad blocker rule(s) and the page will load as expected.